Install the cado sync application on a smart phone and complete registration of the product to start using convenient functions.
Remote control function
The base unit can be controlled remotely from distant locations, such as from outdoors.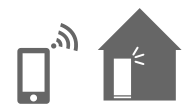 Verification of various statuses
Conditions of the air in the room, as well as notifications on replacement of the filter, can be verified using the feature.

24-Hour timer
Operations can also be set to start and stop at specified times.

24h