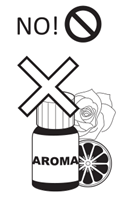 Aromatic oils can NOT be used.
Introducing aromatic oils into the water tank component or tank can cause deformation or cracks (water leak), depending on the components they contain.
The manufacturer warranty is voided if we discover any trace of aromatic oils having been used in the course of providing repair services for malfunctions and the like.